MBC's Rocking The Christmas Stocking 2017
November 22nd to December 15th
Thank you so much for playing Rocking The Christmas Stocking! Merry Christmas and Happy New Year!
Visit our

Facebook page

for more

chances to rock our bonus stockings!
If you're on the nice list, listen every
weekday mornings at 8:30ish with


Tyler J to see if you will Rock our Stockings!

Make sure you choose wisely
because you could be ending up with
a stocking worth $1400
or

lose it all with one worth $100.
Rocking The Christmas Stocking is sponsored by: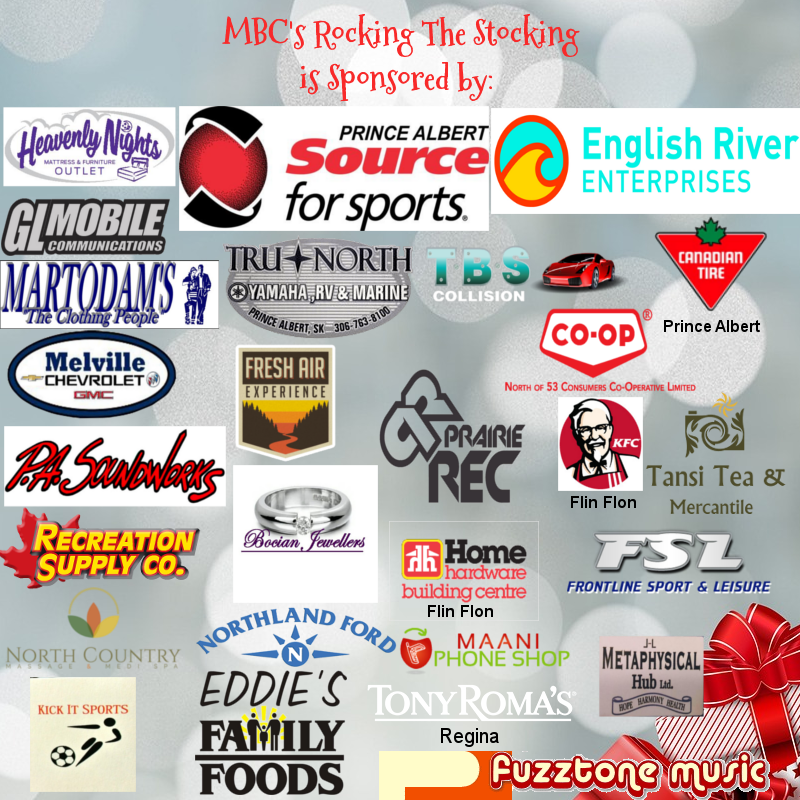 Rocking The Stocking is sponsored by:
Prairie Recreation in Prince Albert
Martodam's The Clothing People in Meadow Lake
North Country Massage & Medi Spa in Prince Albert
English River Enterprises (Beauval Grocery and Grasswood Petro Canada in Saskatoon)
GL Mobile Communications in Prince Albert
Keethanow Lumber and Furniture in Air Ronge
Bocian Jewellers in Prince Albert
Recreation Supply Co. in Saskatoon
Source For Sports in Prince Albert
Heavenly Nights Mattress And Furniture Outlet in Saskatoon
Tru North Yamaha in Prince Albert
Flin Flon CO-OP (North of 53 CO-OP)
Fresh Air Experience PA
Dembos/Kick It Sports-Flin Flon
TBS Collision in Prince Albert
Northland Ford in Flin Flon
P.A. SoundWorks
Eddie's Family Foods in Flin Flon, MB
KFC in Flin Flon, MB
Canadian Tire in Prince Albert
Melville Chevrolet Buick GMC
The Metaphysical Hub in Fort Qu'Appelle
MAANI PHONE SHOP in Yorkton
Tony Roma's Ribs, Seafood & Steak in Regina
Fuzztone Music in Yorkton